Start your woodworking project in a few days instead of waiting months or years for your wood to dry! ​


Now in its
​4th edition!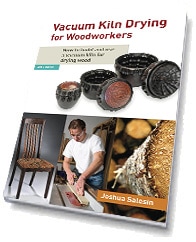 Whether you make turnings, carvings, inlays, furniture, or other wood art and crafts, Vacuum Kiln Drying for Woodworkers will show you how to assemble and use your own vacuum kiln for quickly drying small batches of wood.

Make your projects faster –
No more waiting for months "watching wood dry" before you can use it!

Make your projects better –
No more unexpected warping or cracking after you finish your piece. Now your boxes will keep a perfect fit and segmented projects will stay glued-up!
---
about the nature of wood
how vacuum kiln drying works
why vacuum kiln drying works
how to quickly and inexpensively build a vacuum kiln chamber
proven techniques for quickly drying wood without defects


​"Now you can dry the wood you've been saving and get to work! What are you waiting for?"

​Do you want to learn how to build and use a vacuum kiln for quickly drying batches of wood?
As an alternative to expensive commercial kilns, this book presents a cost-effective solution for an independent woodworker or hobbyist.

First, it explains the nature of wood, followed by an overview of how and why vacuum kiln drying works. Next, it shows you how to inexpensively build a small wood drying vacuum kiln along with a few variations and shortcuts. Then, it covers the techniques for quickly drying wood with the vacuum kiln.

The technique described can be used for rough-turned work as well as milled lumber. All types of woodworking benefit from properly seasoned wood, and this book will enable you to quickly and easily dry wood for all of your woodworking projects— reducing the time it takes from inspiration to creation and preserving the results of your labor.
120 pages of clear and concise instruction
60 illustrations & photos in full color
30 answers to common questions​
10 charts and graphs
3 wiring diagrams
1 drying notes template
dozens of parts suppliers and additional resources




​"This book will save you money by showing you how to do it right the first time."
---
©2023 vacuumkilndrying.com – All rights reserved.